Welcome to CMPS128, spring 2019 edition!
For more information, read the first-day-of-class course overview, then check out the schedule of topics.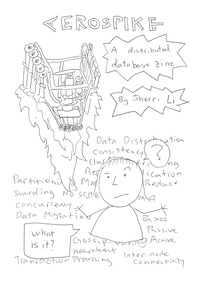 A zine is a short, self-published, often hand-drawn and hand-lettered booklet, usually reproduced by photocopying. Please enjoy these distributed systems zines created by CMPS128 students!
Huh? What do I do with these bizarrely formatted PDFs?
Don't panic! These zines are formatted to be ready to fold into a booklet when printed double-sided. If you're confused, Julia Evans has a video on how to fold a zine (stapling is optional).
These should be printed double-sided with short edge binding:
These should be printed double-sided with long edge binding: